Our Staff -Pet Passages - Livonia, MI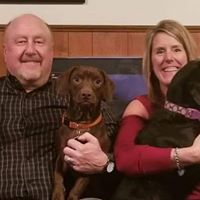 Bob and Wendy Sutton - Owners
Lady Lulu Enterprises, Inc. is a franchise of Pet Passages Franchising, Inc., which is North America's largest provider of pet funeral and pet cremation services and is recognized as a national leader in the pet loss profession.  The ownership team is represented by Wendy and Robert Sutton who will oversee the day to day management of the operation.
Lady Lulu Enterprises, Inc. was born as a result of a desire by its owners, Wendy and Robert Sutton, to be the ones to provide dignified pet cremation services to others.  There is a significant need for these services in our market area that was not currently being accommodated.
Bob and Wendy have both had successful careers, however, their true passion is animals.  They currently have four dogs in their family, all of which are rescues.  They recently lost a member of our family when Lady Lulu, a bichon/dachshund mix, passed away at the age of 12.  She was their first dog and the first one they lost.  Like so many others, they were devastated and in the sadness of our loss, they turned to pet cremation services. After searching and contacting facilities, they traveled more than 30 miles to a facility that provided the level of care that they desired.
It was that time that they realized their calling, and they began down the road of opening Pet Passages, Livonia, Michigan.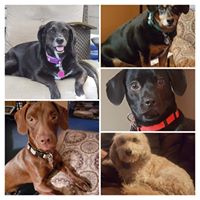 Zelda, Murphy, Oliver, Lady Lulu & Copper - Pet Passages Livonia Board of Governors
Our Founder Lady Lulu, a fluffy, beautiful doxie/bichon mix, was our motivation for starting this business. Following on in her administration are Copper, Zelda, Murphy and Oliver. We go home each night and let them know that we treated every pet with dignity and respect.